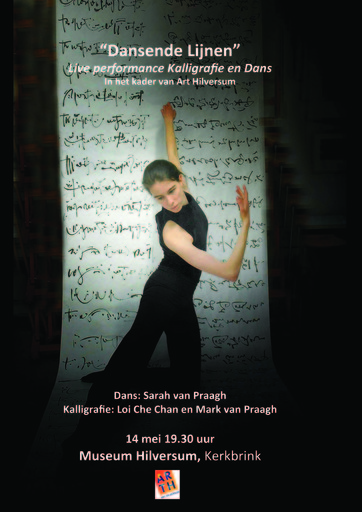 Performance 'Dancing Lines'
Where impromptu dance meets free-style calligraphy
14-5-2015, 19:30
Museum Hilversum
Art Hilversum
'Solos, collaboration, and interaction in dance and free style calligraphy'
Dance: Sarah van Praagh
Calligraphy: Loi Che Chan and Mark van Praagh

The artists and dancer are inspired by each other and the music. Loi Che and Mark by Sarah's dance-improvisations, Sarah in turn by the calligraphic characters of Mark and Loi Che. During the performance, dance, calligraphy and music come together.
Besides working in duos and trios, the artists also improvise and demonstrate in solo. Sarah dances captivating solos, Loi Che captures ancient Chinese poems in free style calligraphy, and Mark transcribes characters in rapid tempo revealing messages that are hidden in sea and landscapes.
Through their collaboration, the artists react to each other. Mark and Loi Che observing Sarah create dancing lines. And, Sarah reacts to their free style calligraphy in her improvised dance demonstrating the form, expression, and tempo of the emerging characters.
"線舞" 是一塲行為藝術舞蹈表演。
耐持書寫狂草,Mark繪畫自創書法,Sarah表演即興舞蹈,三位藝術家用音樂、中西書法、詩歌及舞蹈中之型式,感情,節奏,激發靈感,互相啟發,彼此交替,滆在一起。
在互動之前,三位藝術家會先表演各自所長,Sarah表演迷人的即興獨舞,耐持書法唐詩,Mark以快速繪寫從海洋及山景觸發的「海信」。
Sarah van Praagh簡介
Sarah畢業於德國漢堡Lola Rogge 舞蹈學院,受訓於不同的風格,包括即興舞蹈,現代/爵士舞和古典芭蕾。Sarah 最喜愛即興舞是因為這種舞蹈沒有事前規定的策劃和安排,每個舞姿都是經即時的圖像,故事,音樂或情感觸動而成,隨心隨意,向外通內,真實表達與釋放的身體藝術。
通過和耐持及Mark的合作,Sarah獲得新的靈感泉源,以往從音樂的旋律,節奏,聲音和氣氛中獲得的靈感,現在可在耐持及Mark的書法中吸取,她觀察在紙上出現的字型,有時是平靜安寧, 有時是激昂奔放,耐持及Mark通過筆墨繪畫出有生命力及節奏感的線條,而Sarah就即時以身體的做形,速度,感情,作出反應,表達出來。
Sarah 現時任教於Hilversum市的Andrea Meyer-Rogge 舞蹈學院。
陳耐持,Mark van Praagh簡介
兩位合作的視覺藝術家,儘管有著相距極遠的文化背景,三年前偶遇結識,對彼此的工作方式極感興趣,之後表演過不少試驗性的合作,互相學習,現在經常聯合展覽及一起表演。